Policy Leader
Analysis of Policy Trends
The KSA analyzes major standardization policies and trends at home and abroad and publishes the results on a continuous basis in order to make policy recommendations to the government and shed a guiding light on corporate activities. From 2013, the KSA published issue reports in which policy recommendations were proposed. These reports were made publicly available on the KSA's website and distributed to government agencies and other relevant institutions.
Standards Policy Milestone Reports
The KSA held the Standards Policy Milestone Research Contest with the aim of providing a forum for discussing current issues, major theories, and policy directions to further advance Korea's standardization, and of promoting academic and practical research on standardization. The results were published in a report.
Publish Next Standards
Each year the KSA publishes the results of major research projects in book form to assist in setting standardization policies for the next year.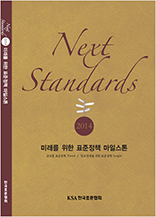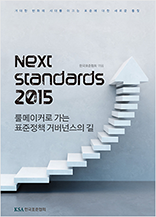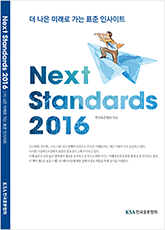 Expanding its role as a private standardization body
In line with the government's policy direction of "increasing the role of the private sector in promoting standardization", the KSA is becoming increasingly involved in developing new standards and setting international standards. The KSA took on a greater role in developing national standards by becoming a Co-operating Organization for Standards Development (COSD) and by operating the One-Stop Standards Development Support Center. As a secretary of the national mirror committees in this field, the KSA intends to create synergy in domestic and international standardization efforts and actively participate in global standardization initiatives.
Involvement in Global Standardization
Global Standardization Support Center
The KATS under MOTIE set up the Global Standardization Support Center within the KSA in 2013 with the goals of providing technology advisory services and international standardization consulting to small and medium sized enterprises (SMEs) and ultimately assisting SMEs with their efforts to increase their exports and raise their global position, and also provides financial support as part of the efforts to improve standard technologies. The center hired international standards professionals to offer one-on-one consulting to corporations, identified ten companies as possessing technologies with the potential to become a global standard, and supported the submittal of New Work Item Proposals (NP) by six of those companies.
Support for Standards Systems in Developing Countries
The KSA secured 900 million KRW from the KATS's subsidy budget in 2014, which is spent on establishing standards systems in developing countries, and is implementing various businesses to meet the needs of individual countries including setting up master plans for the national standards policy, and creating institutional frameworks for standards, compatibility, and measurement. Through these businesses, the KSA is working closely with ISO, African Regional Organization for Standardization (ARSO, Africa), Gulf Standardization Organization (GSO, Middle East), Pan American Standards Commission (COPANT, Central and South America), and Pacific Area Standards Congress (PASC, Asia-Pacific), and enhancing its global status. In addition, the KSA is also actively involved in forming regional standardization and certification blocs to facilitate the sale of certification testing services and exports by domestic corporations in those regions.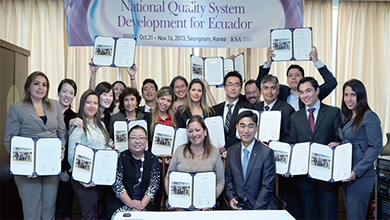 International Conferences
The KSA organized the multi-media international standardization conference hosted by the KATS in April 2013 (61st PEG meeting, 104th MPEG, 47th VCEG, 13th JCT-VC, and 4th JCT-3V meetings). The conference was attended by 455 multi-media professionals from 21 countries to discuss a wide range of issues concerning next-generation multi-media standardizations, including high-efficiency video coding for ultra-highre solution TV, hybrid delivery for smart TV and the provision of user-customized information, augmented reality, 3D video coding, and moving picture data indexing and search technology.
In 2015, the KSA organized the ISO general meeting to be hosted by the KATS in Korea with the remit of making it an important event that reconfirmed Korea's leadership in standardization and provide an opportunity for another leap forward.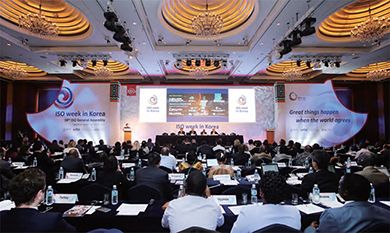 Standardization Initiatives in Korea
Technology Regulations
The KSA was appointed as the secretariat of the Technology Regulation Policy Forum at the end of 2014. The forum was created to identify excessive technology regulations and recommend ways of rationalizing them under the leadership of the KATS. The forum and subcommittee meetings were held on a continuing basis in 2015 to listen for difficulties that such regulations pose to corporations and work out ways of resolving them.
National Standards Coordinator
The KATS launched the standards coordinator business in 2011 with the aim of maximizing the use of national R&D achievements in industries by standardizing and promoting the sales of domestic technologies in global markets. The budget for this project comes from the general account of the KATS. Private professionals are selected as standards coordinators for each of the major industries and get involved in the drafting of national standardization plans. These coordinators are responsible for creating a standard-base R&D standardization roadmap, mentoring SMEs on technology standards, informing SMEs of international standards to create B2B business environments, connecting R&D and standards, and building the basic eco system.
Leader in Standardization Education
The KSA also plays a leading role in educating standards users by developing a broad curriculum with in-depth contents. As a founding member of the International Cooperation for Education about Standardization (ICES), which was launched in 2006, the KSA is sharing its educational experience and know-how with other countries while, on the domestic front, it is striving to create an education system that caters to the needs of trainees and to develop high-quality contents.
Standardization Education Curriculum
KS Sectors
No
Trainees
Content
1
Elementary Schools
Standardization education sessions
2
Middle & High Schools
International Standards Olympiad
Technology textbooks contain a unit on standardization.
3
Universities & Colleges
More than 50 universities and colleges run a standardization program.
Technology standards are incorporated into human resources development programs.
4
Industries
Standards professionals, international standardization, greater expertise and professional knowledge on standards, standards management strategy guide, de facto standardization education
5
Consumers
Nationwide standardization education for the general public; raising consumers' awareness of standardization
Standards Professionals
The KATS earmarked a budget for standard technology improvement businesses and initiated businesses in 2013 to nurture Korean young professionals (KYP) and enhance Korea's capacity to respond to international standardization. The KSA attended international standardization conferences hosted by the International Electrotechnical Commission (IEC) and surveyed standards professionals development programs in major countries. The KSA developed a Korean-style KYP program and held a policy forum twice a year. In 2014, a total of six education sessions were provided and 40 students received education. In addition to this program, 17 sessions were held in 2014 on such subjects as standards professionals (certified), ISO/IEC international standards professionals, standards expertise, standards management strategy guidance, and responses to de facto international standards.
Education for the General Public
As a part of the standard technology improvement businesses, the KSA is educating the general public on standards that are commonly found in their everyday life in order to raise their awareness of the materiality of standards. Specifically, the public education program consists of nationwide standardization education for the general public, a program designed to raise consumers' awareness of standardization, and standardization education in elementary schools. The KSA ran 15 such education sessions in 2014.
International Standards Olympiad
The event was launched by KATS in 2006 and marked its 9th anniversary in 2014. The main participants are middle and high school students, and the winners receive the Prime Minister's Award and the MOTIE Award. The Olympiad was attended by 241 teams in 2014, and foreign high school students joined the event for the first time, illustrating its potential to develop into a pan-Asian event in which youngsters from other countries can participate and compete to come up with new standardization ideas.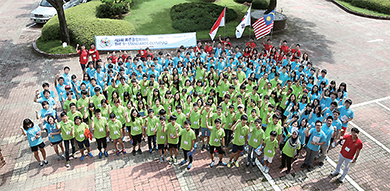 World Standards Day Ceremony
The ISO, IEC, and International Telecommunication Union (ITU) designated October 14 as the World Standards Day in 1970, which is now celebrated in almost every country around the world. In Korea, KATS held the first Government Awards Ceremony in celebration of the World Standards Day in 2000. The ceremony, as the only standards-related national event in Korea, honors individuals and groups that have contributed to strengthening national competitiveness through standardization, and is intended to promote the development of national standards by spreading superior standardization cases.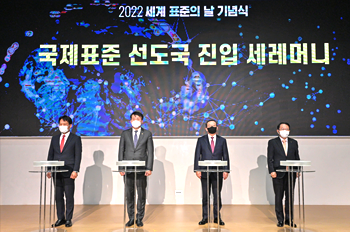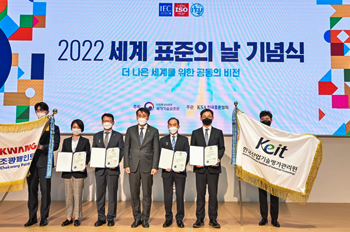 Standards Dissemination
Korean Industrial Standards(KS)
KSA publishes standards developed or revised by KATS under the Ministry of Trade, Industry and Energy and disseminates them through wide-ranging channels covering handbooks, web services and DVDs to help customers utilize them in a prompt and convenient manner. Furthermore, in 2010, KSA built a database of normative reference regarding KS certification items to enable online search and offer more convenient services to certified companies. English translation services are also available since 2010 to respond to expanding overseas trade and growing needs of KS documents in English.
KS Sectors
KS Sectors

| | | | | | | |
| --- | --- | --- | --- | --- | --- | --- |
| Basic Standards(A) | Mechanical engineering(B) | Electrical&electronic engineering(C) | Metals(D) | Mine(E) | Construction(F) | Necessities(G) |
| Foodstuffs(H) | Environment(I) | Organism(J) | Fiber(K) | Ceramics(L) | Chemistry(M) | Medical(P) |
| Quality management(Q) | Transportation machine(R) | Service(S) | Logistics(T) | Shipbuilding(V) | Aerospace(W) | Information(X) |