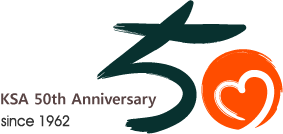 Korean Standards Association (CEO and chairman, Chang-ryong Kim) celebrated its 50th anniversary on March 13 at Grand Intercontinental Hotel in Samseong-dong, Seoul, with the presence of over 200 participants, including Minister of Knowledge Economy, Suk-woo Hong, administrator of Korean Agency for Technology and Standards, high ranking government officials, CEOs of related organizations, former and current executives, and honored guests at home and abroad.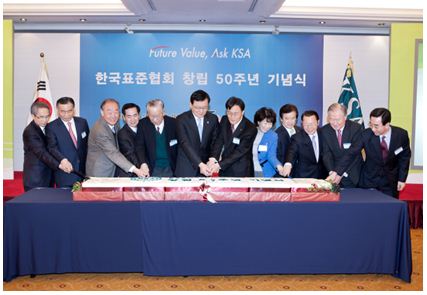 Since its establishment based on the Industrial Standardization Act in 1962, KSA has served as a public organization under the Ministry of Knowledge Economy with 13 regional headquarters and 4,500 member companies nationwide. It has provided comprehensive knowledge service, including standards, quality, certification, and training, and produced more than a million trainees from regular courses over the past half a century through KS certification, standardization, quality management and Six Sigma programs. Currently, it runs 353 regular courses.
The ceremony for the anniversary was prepared to look back on the achievements of KSA and the courses it has followed over the past 50 years and to share its future vision. In his congratulatory speech, Knowledge Economy Minister Hong said, "As a means of overcoming rapidly-changing technological development and uncertainty of the global economy, creative quality management with design factors added to existing quality-centered management has recently attracted much attention. He also asked KSA to make further effort to develop and disseminate various quality management techniques so as to support production of Korean quality goods consumers are willing to buy even at a high price.
KSA chairman Kim stressed in his welcoming address that "it would have been impossible without the support and cooperation from customers and stakeholders for KSA to be of any help in overcoming the challenges and difficulties and raising quality competitiveness of domestic enterprises. In the meantime, KSA suggested its future vision that based on the three strategic objectives of customer-centered, people-centered, performance-centered management, it would realize sustainable management to become one of the world's first-class knowledge service providers.
He also said, "KSA will strive to lay the foundation for promoting customer value and national competitive edge by 2030 as the world's 7th public standardization organization in standards, as a global leader in creating quality products in quality, as Korea's representative certification body in certification, and as a cradle for nurturing industrial talents in training.